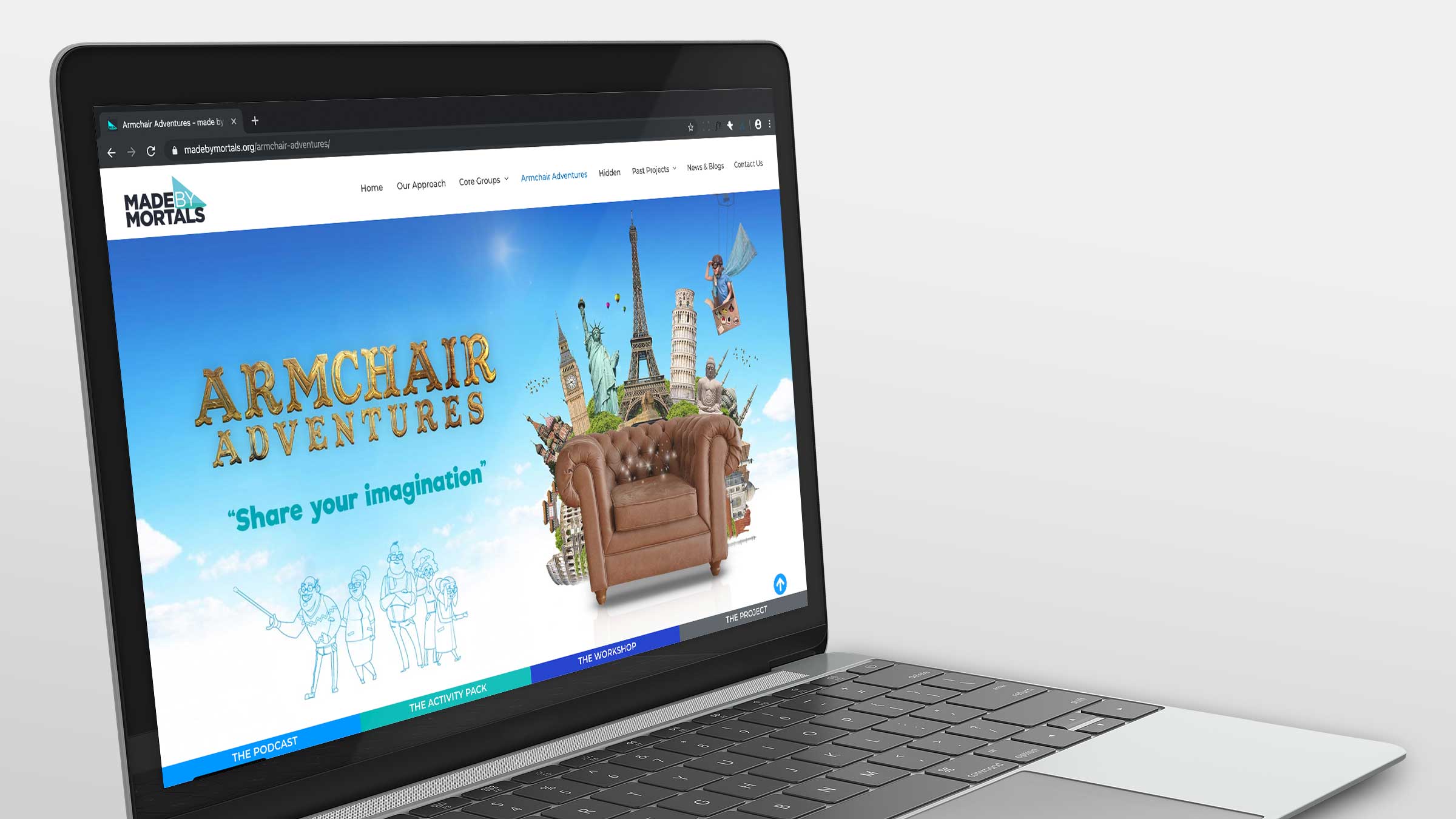 Bringing shared experience to life
Made by Mortals produce create great podcasts, films and musical theatre shows where a wonderful mix of community groups are able to work alongside top-class professional artists to produce engaging imaginative shows and content.
Our relationship began life with Made by Mortals helping out with the varied range of performance and podcast identities and show graphics for some amazing productions such as, Rats in the Sofa, Hidden and most recently Armchair Adventures.
Made by Mortals have grown and flourished as a company and as part of this process also realised that they needed to work on and develop their own visual identity.
GOTO have helped Made By Mortals find a consistent visual tone for all communications, from social posts to bids and tenders. A large part of this project was to help them to redesign and build a new website.
The website was designed to be both informative and fun –  to have a clear simplicity in layout showcasing the work of Made by Mortals, what they do and how they go about it. The new website design must also balance with the promotional graphics for the Made by Mortals productions themselves, which vary in style and character for each story being told.
Armchair Adventures
Podcast and Activity Pack Design
Armchair Adventures is a podcast and activity pack that takes you on a journey of the imagination. Each adventure is inspired by people's experience, knowledge and passions and expressed through drama, music, movement and song.
Join Connie and her lovely customers as they take you on a series of Armchair Adventures. You'll visit magical places, meet extraordinary people and understand the world a little better as you embark on a journey of the imagination.
A bright, engaging feel to this one to appeal to both younger and older listeners.
The podcast has really caught peoples imagination, with over 15,000 podcast listens from around the world so far. Armchair Adventures been described as "A positive podcast for 2021" – and recommended by BBC Radio 4 & FunKids Radio.